Healthy Teeth, Healthy Kids
Healthwatch Kingston was approached by the Royal Borough of Kingston's (RBK) Public Health to contribute to part of the local Joint Strategic Needs Assessment (JSNA) on children's oral health in Kingston.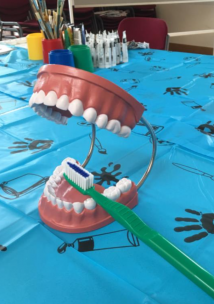 Summary
The JSNA was carried out due to Kingston scoring significantly poorer than England averages for hospital admissions due to dental caries in children aged nought to four years old, and 23% of five-year-olds in the borough having dental decay by age five.
Healthwatch Kingston's aims were to find out what children and parents know about how to look after their teeth, where they learnt this information, and what could be done to promote and improve the oral health of children in the borough.
Key findings
Almost half of the children spoken to had fillings, and one seven-year-old potentially needed a tooth extraction due to tooth decay.
Parents and children were knowledgeable about the types of food and drink conducive to good oral health, yet parent's inability to monitor sugary treats at school was raised
The need for the dentist to be accessible, child-friendly and attentive was highlighted. Some issues were raised about access to dental surgeries due to oversubscription.
Children and parents were aware of how often to brush their teeth, although there were some who were not clear that they should not rinse with water after brushing.