Healthwatch Kingston Annual Report 2018/2019
Healthwatch Kingston's Annual Report for 2018/2019.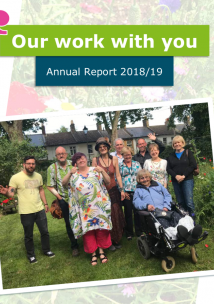 Summary
Dr Liz Meerabeau was appointed Chair of Healthwatch Kingston, having taken over from Graham Snelling on 1 September 2018. We are delighted that Grahame continued as a board member and he has set up a Community Reference Group to obtain the views of people who have experienced Kingston's Adult Safeguarding Services. 
We have also further strengthened our Board with two new Trustees, Scotty McLeod and Dr Winnifred Groves. 
Our top five work areas in 2018/19 were:
1. Mental Health
Service user qualitative review of the iCope Kingston Psychological Therapies Service
'Time to Change Kingston' Hub Coordinator supporting 'Time to Change Champions'
Chair and administrative support for the 'Thrive Kingston Mental Health Strategy Planning and Implementation Group'.
2. Learning Disability
Capacity building Healthwatch Kingston to improve access and support meaningful engagement with local people with a learning disability
Chair and administrative support for the 'Kingston All Age Learning Disability Partnership Board'.
3. Hospital Services
Research into service user experience of discharge from Kingston Hospital NHS Trust
Monitor local experience of NHS care in Kingston.
4. Community Care
Evaluation of the local impact of 'Connect Well Kingston', an emergent local online social prescribing tool
Establish a 'Community Reference Group' for adult safeguarding issues.
5. Young People
Develop 'Youth Out Loud!', a new Task Group of young people from Kingston (and Richmond)
Support delivery (with other partners including Healthwatch Richmond) of the 'Digital Youth Project' (a series of short health and care films by young people for young people).