Kingston Personality Disorder Pathway
Briefing for Health and Wellbeing Committee - November 2019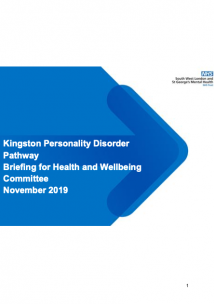 In January 2017, Healthwatch Kingston's Mental Health Task Group (MHTG) heard that Kington's arrangement for managing complex Personality Disorder (PD) was different to other boroughs in South West London.
We formally asked Kingston Clinical Commissioning Group (KCCG) why Kingston's approach to PD was different; how the implications were managed and to ensure that this is adequately managed in the Thrive Kingston, Mental Health and Wellbeing Strategy, (2017-2021).
Following various correspondence since then, we are now pleased to share with you the Kingston Personality Disorder Pathway briefing document provided to us by South West London and St George's Mental Health NHS Trust (SWLSTG), which was presented at the Health and Wellbeing Committee in November 2019.
The pathway was developed to meet the need for specialist evidence based interventions for clients with borderline personality disorder living within the borough of Kingston, in line with all other boroughs covered by South West London and SWLSTG.