Kingston Covid-19 vaccination programme
The NHS in south west London drives forward ambitious vaccination programme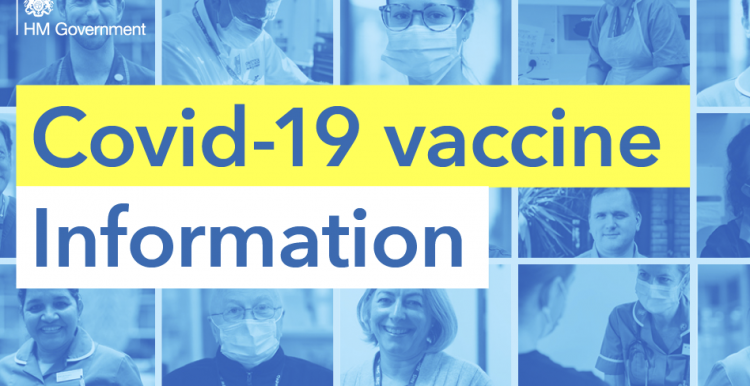 Information from South West London CCG
How and where are we delivering the vaccine to Kingston residents?
When it's your turn to be vaccinated, the NHS will contact you and invite you to a local Kingston centre.  You may also receive a letter from the National Booking System, where you can book an appointment directly or wait for your local GP to contact you.  
GP vaccination sites
GP practices across Kingston are working together to carry out vaccinations at dedicated vaccination sites. This means that you may be invited to a vaccination site to receive your vaccination, rather than your GP surgery.
Please don't contact your GP to request an appointment.
Please don't go to a vaccination site if you don't have an appointment.
It's very important that you don't go to a vaccination site without an appointment. Appointments are only available by invitation – you can't request one from your GP – so please be patient and wait to be contacted by your GP or the NHS.
Kingston Hospital vaccination hub
We have been vaccinating at Kingston Hospital since Tuesday 29 December. In line with national guidance, we have been vaccinating vulnerable hospital patients and patients who are aged 70 and above, staff from our local care homes, London Ambulance staff and staff from Kingston Hospital and our two local community NHS trusts.
We have been administering the Pfizer vaccination and will be receiving further supplies next week so we can continue to vaccinate people within these categories.
Next steps to further expand the programme
Large vaccination centres
As well as hospital hubs and primary care sites, we are working to bring on line community vaccination centres to help further expand our capacity to deliver the vaccine programme
You will have seen the announcement in the national media about large vaccination centres, which are now operational across the country. The first large vaccination centre to open for Kingston residents was Hawks Road in Norbiton, which was also South West London's first site.
Some Kingston residents who are over 80 have received letters from the National Booking Service, where they can book an appointment directly at a vaccination centre, if available. Large vaccination centres will operate 7 days a week. As more large vaccination centres come online there will be more choice for local people.
Across South West London we have been running a large scale campaign to recruit teams to manage and deliver vaccines at these centres across our six boroughs. We are currently running a volunteer recruitment campaign which has generated a good response.
Who is being prioritised to receive vaccines first
The government has set out the challenging ambition of vaccinating all those in the top four priority groups by February 2020 as set out in the advice from the Joint Committee on Vaccination and Immunisation (JCVI).
At this time, the vaccine is being offered to:
care home residents and people who work in care homes
people aged 70 and over
health and care workers
We expect most over 80s to have been offered the vaccine by the end of January, though over 80s will be able to come forward and receive the vaccine throughout the Covid-19 vaccination programme.
Find out how the over 80s are getting the vaccine
Read more about why some people are being prioritised
Care home staff, residents and front line care workers
Before the first vaccines were delivered in early December we began to work with care homes across all our boroughs to reach out to care home staff as a top priority group.
Over the weekend up until Sunday 24 January 2021 our teams also completed the substantial task of visiting 195 care homes across South West London to offer the jab, ensuring some of our most vulnerable residents are protected against the disease. We believe around 80% of care home residents received their first dose.
We are working closely with council colleagues to coordinate vaccine appointments for front line social care workers including front line domiciliary and agency staff.
How people are being invited to have their Covid-19 vaccine appointments
The NHS will continue to contact people directly to invite them to receive the vaccine – when it is their turn, they will receive an invitation for an appointment.
This may be via the phone, text message or letter from a Kingston GP practice or a letter from the National Booking Service.
If you have received a letter inviting you to book a coronavirus vaccination, you can book it. Please do not try to book a vaccination if you have not received a letter. You may also wait to be contacted by a Kingston GP if you cannot book a local vaccine appointment.
This will be the same for those patients who are housebound and would require a home visit. If those people who are housebound are offered an appointment at a centre, they should talk to their GP or respond to the contact details in their invitation.
As only a proportion of vaccination sites are live at this time, many over 80s will not yet have been contacted.
We expect the majority of over 80s to have been offered the vaccine by the end of January, though over 80s will be able to come forward and receive the vaccine throughout the Covid-19 vaccination programme.
Everyone is being asked to wear a face covering to their appointment.
How we are talking to local people
We know that in Kingston some of our communities are more vaccine hesitant than others groups. 
We are engaging with local communities to give people the chance to ask local experts about the vaccine so that they can make informed decisions and we can understand any concerns they may have.
We are also exploring opportunities with other Kingston community partners and leaders to reach deeper into our communities to build public confidence and improve uptake.