A year with Covid-19 report: Your experiences of NHS and social care services in Kingston before and during the pandemic
The Healthwatch Kingston compilation report covers feedback from Kingston residents between 1 January 2020 to 31 March 2021 and collates analysis of 501 experiences, views and concerns received from 238 people.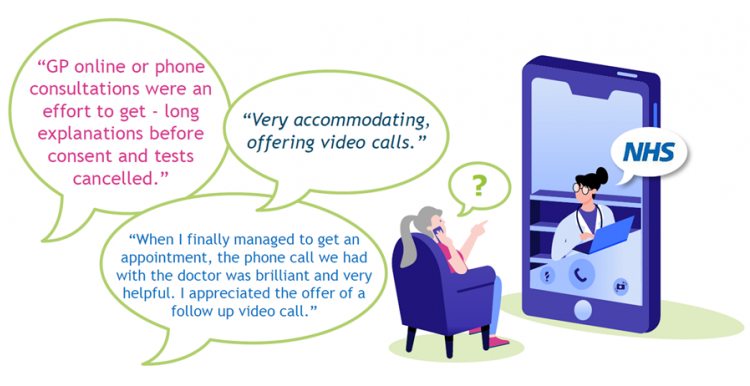 Elements of this work were reported to service commissioners and providers during 2020/21 to support service improvement during the pandemic. The complete 'One Year with Covid-19' report was published on Friday 30 July 2021.
This 15-month report brings together experiences shared with Healthwatch Kingston through two surveys we ran between 1 January 2020 and 30 November 2020, along with additional experiences, views and concerns shared via the Healthwatch Kingston website, received in voice messages, emails and during virtual engagement events between 1 April 2020 and 31 March 2021.
Read the COMPLETE and/or MINI REPORTS:
To accompany the complete report, we have provided a series of mini reports that focus on what you told us about different areas of NHS and social care services. These provide quick access to specific information and augment a range of other Healthwatch Kingston outreach and engagement work that is reported elsewhere. To gain an overview of the extent of our work, you can also download our Annual Report ('Our work with you').
Share your views: Long Covid Experiences and Support
Healthwatch are working with the NHS in South West London to gain insight into people's experiences of Long Covid, to help improve the support and services that are available. Fill in our Kingston survey now and help shape the support you need.
Fill out our Kingston survey here.