Experiences of NHS and social care services in Kingston before and during the Coronavirus pandemic: Snapshot report #1
Healthwatch Kingston has compared experiences of NHS and social care services prior to and during the Coronavirus pandemic. This snapshot report presents information shared with us from before 'lockdown' and between the beginning of April to mid-June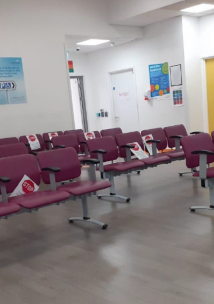 This 'snapshot' report is informed by 272 experiences shared with Healthwatch Kingston during the period identified in this report. 45 people responded to the Healthwatch Kingston 'Have your say' survey (run in January to March 2020) and 88 people responded to the COVID-19 'Have your say' survey (1 April and 15 June 2020). The different experiences shared in these surveys have been combined with other non-survey experiences received between 1 April and 15 June. 
Summary of findings
We asked about access to care, quality of care, and aftercare experiences during the Coronavirus pandemic. People commented on a range of different services within the Kingston borough as demonstrated by the breakdown below. 
Overall satisfaction 
Analysis of the data showed, just over half of the respondents are satisfied with the level of service they have received from NHS and social care services in Kingston both before and during COVID-19 (to date). Satisfaction levels have not drastically changed considering the crisis. 
Kingston Hospital 
Kingston Hospital's response to COVID-19 has been praised, including making sure patients felt safe when attending routine appointments and non-COVID related procedures. Staff have been complimented for their supportive attitude and the A&E department has been described as efficient, with clear protection in place for patients and staff. People spoke of quick, easy access to care and good follow-ups. 
GP services 
There was a mixed picture of people's experiences accessing GP services. Many people said they were unable to get through the GP services on the phone and found it difficult to make appointments. Some people said a lack of information was being made available online. Once people received appointments over the phone, most people felt the care they received was adequate given current circumstances. There seemed to be a lack of follow-up calls with some people not hearing back after being promised a call, having appointments and tests canceled and still waiting on referrals. 
Kingston Stronger Together 
All comments and experiences of the local Kingston Stronger Together response were good according to survey respondents. Vulnerable people appreciated being called and several people expressed gratitude for food parcels which were delivered when they were facing difficulties. 
Pharmacies 
Most comments regarding pharmacies were positive, saying staff were helpful and that measures had been put in place to protect staff and visitors. Some people expressed difficulties in accessing delivery services for medications especially towards the beginning of the crisis but say that this seems to running efficiently now. 
Mental health services 
We only received negative comments regarding access to mental health services with many people saying they felt they had been left with no support despite the Community Mental Health Team knowing they were vulnerable. Others expressed difficulties in accessing services at Tolworth Hospital Adult Mental Health Unit. Others said waits for assessments had been further delayed due to the crisis. 
Dental services 
Many people expressed frustration at not being able to access dental services due to most surgeries being close and not offering a telephone service. 
Experiences of NHS and social care services in Kingston before and during the Coronavirus pandemic: Snapshot report #1