Time to Talk Day is on Thursday 4th February 2021. Time to Change Kingston Champions have put together a series of virtual events to mark the occasion and help reduce mental health stigma. We hope you can join us!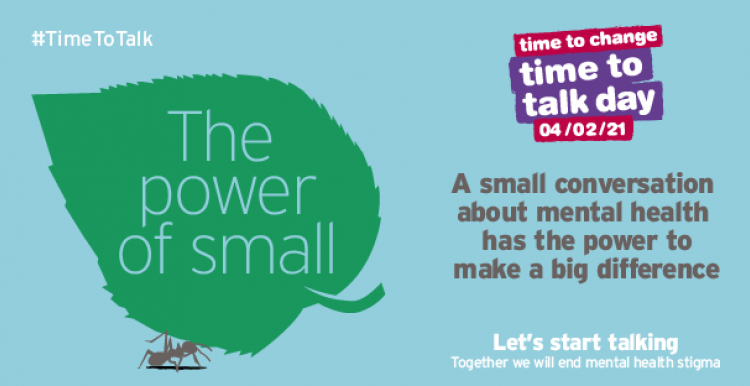 Time to Talk Day Events
Wednesday 3rd Feb 6pm on Zoom (and other dates)
Sarah Talks Fashion and Mental Health
Sarah Hollebon, a fashion designer, and Time to Change Kingston Champion, will be hosting a series of live talks with professionals in the fashion industry about mental health. Join us on Wed 3rd Feb for the first in a series of open and honest conversations on mental health and how it weaves into the fashion industry.
Thursday 4th Feb 7pm on Zoom
'From Seen to Scene' event by Time to Change Kingston Champion Paddy 
Come along to this entertaining event and spend your evening watching shortlisted scenes from a screenwriting competition performed by professional actors live and vote for your favourite one. The theme is 'encounters', so expect everything from the kindness of a stranger and how someone met their best friend to the downright bizarre and hilarious that must be seen to be believed! 
Friday 5th Feb 1pm on Zoom
Small things that go a long way 'In conversation' with Time to Change Kingston Champions
We invite you to join and listen to five of our wonderful Time to Change Kingston Champions Eli, Debbie, Tony, Dorota and Sarah talk about all things mental health to mark Time to Talk Day. They will be discussing their own experiences of mental health issues as well as 'the power of small' (the theme of Time to Talk Day). They will share small things that others have done that have gone a long way to helping them in their recovery. 
Want to get involved in future events? 
Come along to our next Champions Network Meeting on Wednesday 17th Feb from 4pm-6pm.
This is an opportunity for Time to Change Kingston Champions to come together and make plans for campaigns and events to reduce mental health stigma in Kingston. This is the perfect meeting to come along to if you are trying to figure out how to get more involved. Email Persephone@healthwatchkingston.org for the Zoom details.